Great news for clients using Worldpay – the online gift card program Gift+ is available and can be in place in a couple of weeks, just in time for holiday shopping.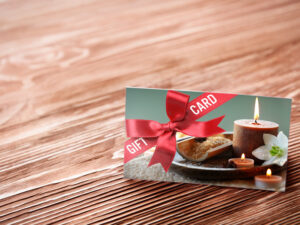 With the Gift+, restaurants can:
Increase sales with online digital and physical gift cards.
Boost sales with offers and deals like BOGO and discount codes.
Market and build loyalty with engagement marketing like customer recovery, promo gifts, birthday, charity, and opt-in incentives.
Sell and market instantly from your website and social media. With a seamless customer experience, sell digital and physical cards and offer bulk orders. Gift card delivery includes email, SMS, social media, print, or traditional mail. Customers can load/reload gift cards and check balances as well. The Merchant Portal allows clients to view all gift card activity, including sales, customers, promos, gift card designs, and more.
To learn more, please reach out to Mark Tipper ([email protected]) or Lindsay Christensen ([email protected]).
Act fast to ensure the program is in place in time for holiday shopping!